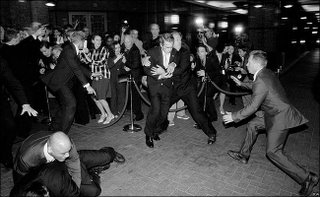 Since I've been in a media vacuum lately, I didn't know about this mockumentary,
Death of a President
, that premiered at the Toronto film festival and then screened on British TV on October 9th. It depicts the assasination of Dubya in 2007 in Chicago and the ensuing events given that scenario. It's generated enough controversy that two out of three of the largest theater chains have
banned
it. To get an idea of the style of the film, here is a
10 minute clip
including the assasination scene.
Although condemned by many Americans as" shocking", "disturbing" and "irresponsible", the head of More4, the network that originally screened the film on British TV stated on bbc.co.uk: "I'm sure that there will be people who will be upset by it but when you watch it you realise what a sophisticated piece of work it is... It's not sensationalist or simplistic but a very thought-provoking, powerful drama. I hope people will see that the intention behind it is good."
Newmarket Films, the distribution company attempting to convince theaters to show the film in the US hopes to have some takers by smaller theater chains to make the release date of October 27th. Richard Abramowitz, who is consulting with Newmarket on the film's distribution, said "Death of a President" has been booked into more than 100 venues and he expects that number to rise as he expands his sales effort into other regions.
Let's hope that this piece of entertainment does not become the focus of a political agenda or censorship.